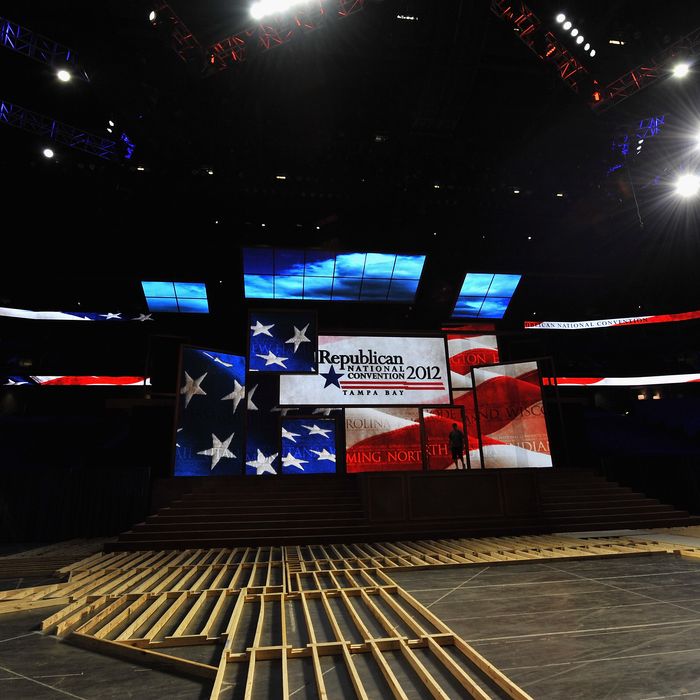 Waste of time, building this set.
Photo: Tim Boyles/Getty Images
Who could have possibly foreseen, when scheduling the Republican National Convention for August in Tampa, that a hurricane could threaten the festivities? The answer is that anyone, including small children, could have foreseen that. But Florida is absolutely vital to Mitt Romney's White House hopes, so they picked Florida anyway. And now a hurricane is going to sweep Romney and the other 50,000 conventiongoers out to sea.
Technically, that is an extreme and unlikely scenario. But there is a storm brewing the Caribbean, and it could hit Tampa next week, according to Weather Underground's Jeff Masters:
There is between a 1 percent and 2 percent chance of a tropical storm hitting Tampa next week, Masters said today in an interview. He put the odds of a hurricane striking the city at 0.2 percent.

"This system out there has definitely increased the odds, but it's way too early to assign definite risks," Masters said. "The fact that there is a model making landfall over Florida is something we have to respect."
A spokesman for the convention tells Bloomberg News that they "have contingency plans" which will ensure that "the 50,000 people coming to Florida are kept safe." Personally, though, we're not going to be taking any chances. We intend to keep a close eye on Donald Trump, whose hair will alert us to the first signs of a coming storm.