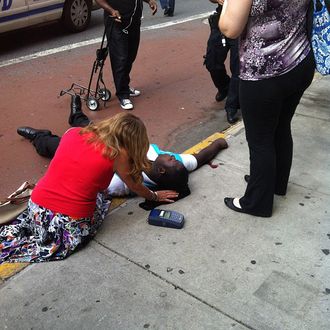 Malik's free photo.
Photo: Muhammad Malik
Local photographer Muhammad Malik was coming out of the subway when he happened upon the immediate aftermath of this morning's deadly shooting near the Empire State Building. He promptly uploaded a photo of one victim, bleeding on the pavement, to Instagram, complete with a crass caption quoting the rapper Nas: "They shoot, aw made you look! No really tho. Dude got popped!" On Facebook, he added, "MAN DOWN! SHOTS FIRED!"
Soon after, the news organizations came calling for permission to run the picture. "OMG, reporters are calling me from all over the country!" he wrote. "Making major deals! #chaching." But when reached by Daily Intel to ask about his rate, Malik was more subdued. "Actually to be honest, it's free — I don't even care," he said. "That happened this morning, at this point it's just too much for me." He also insisted he wasn't being offensive.
"I ain't got time for people getting shot on my way to work," Malik, a.k.a. mr_mookie, wrote online in response to angry comments about his caption. "I've said worse, check my feed." Later, he backtracked a bit and added, "Let's be clear everyone, I didn't shoot anyone, I just took a photo, don't hate me, hate the actions that caused me to get a picture like that."
"I don't think it was insensitive," he stressed to Intel. "It's New York, I just took a photo. I was there when the World Trade Center [went down] — someone has to document these things." He trailed off. "It was just a comment."
Asked if he would make any money at all from the graphic image, Malik said, "Probably not."