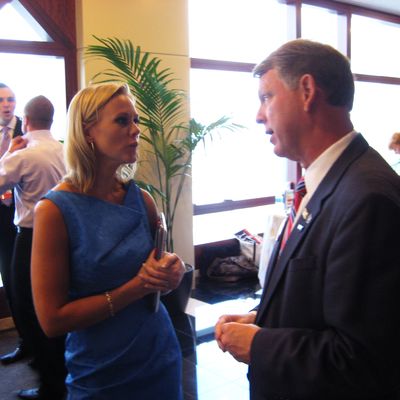 Margaret Hoover talks with Allan Kittleman.
Photo: Dan Amira/New York Magazine
While attitudes on gay marriage have rapidly changed over the past four years, that progress failed to make an appearance in the Republican Party platform passed at the convention yesterday. Not only did the platform call for a constitutional amendment banning gay marriage nationwide, but it also "reject[s] the use of the military as a platform for social experimentation" — a thinly veiled euphemism for the repeal of Don't Ask, Don't Tell. In other words, it's still the nineties in Tampa.
But in the 41st-floor law offices of Holland & Knight overlooking the Tampa Bay Times Forum this morning, at a breakfast hosted by Freedom to Marry, a group of prominent Republican gay-rights insurgents gathered to wax optimistic about their hope for the future — and, more quietly, bemoan the increasingly archaic views of their party. 
"It is disappointing for me," Florida resident Ted McCormick, whose son is gay, told me. "Even though I'm a conservative Republican, the debate about the freedom to marry needs to be had within the Republican Party, and a platform as stringent as that one really kind of gets in the way of a meaningful debate."
Linda Umberger, a grassroots party worker in Georgia, had been told that she would have no problem being chosen as a delegate to the RNC this year. That is, until a GOP committee in her conservative district quizzed her about gay marriage. "I said, 'On this platform issue, I think we need to reconsider it. I think we need to acknowledge civil unions, marriage — something — because it's undignified." She was rejected. "My county chairman went back, and all four of the gentlemen [on the committee] … said it was that issue."
Allan Kittleman, a Maryland state senator and RNC delegate, suffered a similar fate. In 2011, as minority leader, he was the only Republican state senator to voice support for an impending gay marriage bill. The inevitable backlash followed, and Kittleman resigned his leadership position.
"People would call my office who had known me forever and say, 'Is Allan gay? Is his daughter gay? Is his son gay? Does he have a brother who's gay?'" Kittleman told me. "No, he's a heterosexual man who believes in equal rights." Kittleman says he knows of at least three GOP state senators who told him that, if they could do so privately, they would vote for gay marriage. But in 2011, and again in 2012, Kittleman was the only one to do so. Kittleman won't stand for reelection until 2014, but he knows that his votes for gay marriage will put him in danger. "There's no denying it, a Republican primary could be tough," he told me. 
The political perils facing marriage-equality-friendly Republicans is something that Margaret Hoover, a Republican gay-rights activist — and also, by the way, the great-granddaughter of Herbert Hoover — wants to neutralize. The American Unity PAC, which she serves as treasurer, has raised $1.8 million to protect and defend Republicans who support gay rights. So far, they've announced that they'll back three congressmen in 2012, including New York's Richard Hanna of Utica. 
When we asked Hoover whether she could foresee a day when the GOP platform would endorse gay marriage, she didn't hesitate. "Yeah!" she said, as if the question was absurd. "Definitely."