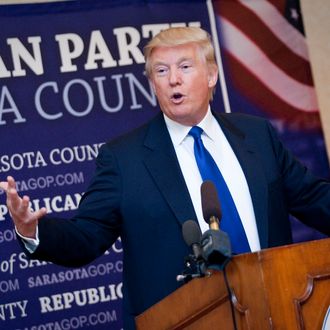 Photo: Edward Linsmier/2012 Getty Images
The Republican official who declared Donald Trump is "bigger than any hurricane" may not have been entirely accurate. While the size of his ego and the force of his blustering may be hurricanelike, Trump won't be sticking around in Tampa to brave Isaac with the rest of his party. The tropical storm has thrown the entire Republican convention into turmoil, but in a particularly concerning turn of events, Trump says the fate of his "big surprise" for Monday night is now up in the air.
Trump was in Florida on Sunday receiving the "Statesman of the Year" award from the Sarasota Republican Party, but Politico reports that he'll probably return to New York tonight rather than heading to Tampa. Trump told reporters that he might return to the Sunshine State, but with the cancellation of Monday night's events, his involvement in the convention is now uncertain. "Well I had a big role tomorrow night. You know what happened tomorrow night. So it's now up to them," he said. "It's totally up to them, whatever they like."
When asked to elaborate on what he had planned, Trump only revealed that it was a "very big thing," adding, "I think they're still going to probably do it." Fine, but telling Obama "you're fired" via satellite won't have the same oomph as doing it in person.