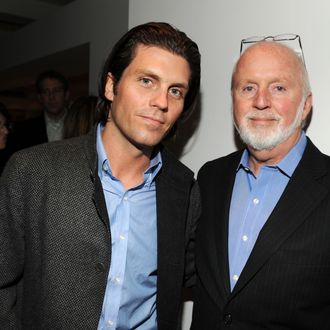 Jay Penske, the CEO of PMC (Deadline Hollywood, MovieLine) and son of billionaire racing magnate Roger Penske, was arrested last night with his brother Mark at the Nantucket Yacht Club. The Brothers Penske were apprehended at 2 a.m. on Thursday after a report of assault and battery (plus peeing) and what sounds like a terrible, wild night:
One of the women claimed the Penske brothers were urinating in the parking lot, and that when she confronted Jay Penske, he "turned and continued to urinate on her boots. He then proceeded to grab her arm and push her. (The woman) also states that […] they both then ran to the house on Yacht Club property the report states.

Police claimed they apprehended Jay Penske attempting to run away from the club, and that they found Mark Penske at the employee apartment after he had fallen down the staircase, suffering several cuts on this right arm.
The women opted not to press assault charges, the local Inquirer and Mirror reports, although the pair were arraigned on breaking and entering misdemeanors for making their way into the yacht club's house.
The Penskes, by the way, are not members of the club. And now they never will be (unless they buy it).