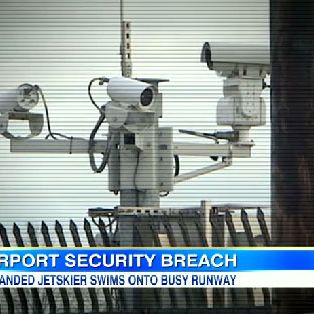 The $100 million system of motion sensors, closed-circuit cameras, and eight-foot barbed-wire fence surrounding JFK Airport was no match for a 31-year-old man whose Jet Ski stalled in the middle of Jamaica Bay.
At around 8 p.m. last night, Queens resident Daniel Casillo swam to the airport from his sinking Jet Ski, climbed the barbed-wire-topped perimeter fence, and walked across two runways and dozens of cameras. He wasn't discovered until arriving at Gate 10, still soaking wet and wearing his life jacket.

As a reward for exposing Port Authority's flawed security system, Casillo was arrested and charged with criminal trespassing. Port Authority has also increased foot and water patrols around the airport should an actual terrorist attempt Casillo's proven technique of climbing a fence and walking around in clear view of everyone.