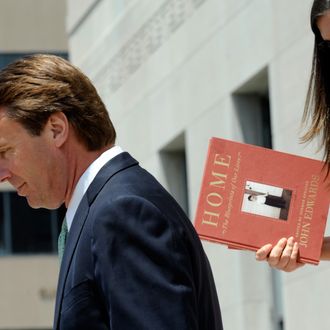 Former U.S. Sen. John Edwards and his daughter Cate Edwards leave for lunch on the ninth day of jury deliberations at federal court May 31, 2012 in Greensboro, North Carolina. Edwards, a former presidential candidate, plead not guilty to six counts of campaign finance violations and could face a maximum of 30 years in jail and $1.5 million in fines.
Photo: Sara D. Davis/Getty Images
"One imagines [John] Edwards was stiffed at least in part because of his high-profile legal problems and the fact that he fathered an illegitimate child as his wife was dying of cancer," an astute Weekly Standard writer suggests.