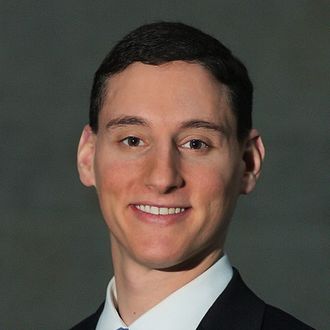 The state Democratic Party certainly thinks so and the Cincinnati Community Press agrees, but we don't think the evidence that current Ohio State Treasurer Josh Mandel faked a Southern or Appalachian English accent is absolutely clear-cut. The speech in question occurred on Tuesday at a Romney campaign rally in Beallsville, Ohio, part of coal country near Ohio's border with West Virginia. Romney introduced Cleveland native Mandel, who gave a speech lasting only a couple of minutes — so the sample is quite small.
There are also hints of whatever tongue he's speaking in in some other speeches he's given, where he pronounces "America" and "entrepreneurial" like George W. Bush ('Merica!"). On the other hand, there are only hints. His speech is pretty thick when he takes the podium, and it fades a bit by the end. Watch the video beginning at about the one-minute mark.
Now consider Mandel's speech in this video from an October 2011 speech at a rally sponsored by the Faith & Freedom Coalition of Ohio:
To punctuate a broader attack, the Ohio Democratic Party spokesman Andrew Zucker said in a statement about Mandel's speech at the Romney event:
"As if blowing off work and hiring unqualified campaign workers and friends at taxpayer expense wasn't evidence enough of his blatant disregard for the people who elected him treasurer expecting that he'd do his job, Josh Mandel has now stooped to faking his accent as a means of earning votes. It's sad, it's pathetic and unfortunately it's concrete proof that he is just another politician who can't be trusted."
The Cincinnati Community Press wrote: "Romney briefly yielded the stage to U.S. Senate candidate Josh Mandel, who gave an odd minute-and-a-half speech where he started with a southern accent unheard before. Mandel lives in Lyndhurst near Cleveland."
By way of background, Republican nominee Mandel is challenging Democrat incumbent Sherrod Brown for an Ohio senate seat. Mandel trails Brown by 7.3 points according to Real Clear Politics' average of polls over the last three weeks and is benefiting from Rove-led Crossroads GPS's $1.33 million ad buy dinging Brown on the economy. Mandel has also been called "bold" and "free-swinging" by the Cleveland Plain-Dealer and had six of his statements rated "Pants On Fire" by Politifact, which in their evaluation means he's telling a complete, possibly ridiculous falsehood. But would anyone get up there and cop an accent with the Republican presidential nominee looking on?