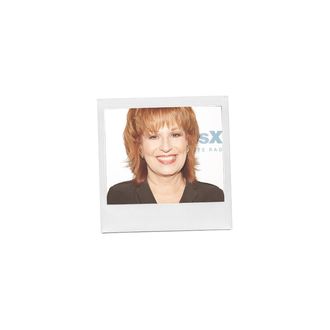 Photo: Cindy Ord/Getty Images
Name: Joy Behar
Age: "Ten years younger than what they say on IMDB."
Neighborhood: The Upper West Side
Occupation: Talk show host. Her new Current TV series series Joy Behar: Say Anything! premieres next Tuesday, September 4, at 6 p.m.
Who's your favorite New Yorker, living or dead, real or fictional?
Anne Meara and Jerry Stiller. I've known them for several years; they're very good neighbors on the Upper West Side. One time I screwed something up with Anne and she wrote to me "Joy, you ignorant slut." I love her for that.
What's the best meal you've eaten in New York?
My Aunt Rose's lasagna in Williamsburg, circa 1972. It was packed with every heart-stopping cheese you could find in Brooklyn.
In one sentence, what do you actually do all day in your job?
I talk to people and people talk to me.
What was your first job in New York?
It was at Kresge's Five and Dime on Fifth Avenue. I was sixteen. I didn't last very long there because all the money I made there — which was approximately a dollar an hour, or maybe less in those days — went right back in to the store.
What's the last thing you saw on Broadway?
End of the Rainbow, the Judy Garland play. The play wasn't that good but Tracie Bennett, the woman who played Judy Garland, was great. I've never seen a woman do Judy Garland on stage before, It's always Mario Cantone or female impersonators.
Do you give money to panhandlers?
Yes, but I feel that I'm not part of the solution when I do.
What's your drink?
Ketel One, on the rocks, three olives.
How often do you prepare your own meals?
With one job, twice a week. With two jobs. once a week. When I was married the first time I would cook every night and it just killed me.
What's your favorite medication?
Bayer AM.
What's hanging above your sofa?
A painting that looks like a Klimt — we call it a fu-Klimt!
How much is too much to spend on a haircut?
It gets trimmed on set every couple weeks, but when I do go for a haircut and I would never pay more than $100. It's ridiculous to spend a ton of money for a haircut. Any idiot can do a trim. My husband can do it.
When's bedtime?
11:00 p.m.
Which do you prefer, the old Times Square or the new Times Square?
The new Times Square. More tourists, fewer rats.
What do you think of Donald Trump?
The Donald makes for good TV.
What do you hate most about living in New York?
You have to get two sixteen-ounce sodas in a row now. You can't get a 32-ounce soda.
Who is your mortal enemy?
My fifth grade teacher, Mr. Friscia, for calling me "Brillo Head."
When's the last time you drove a car?
Last weekend, in the Hamptons. I'm really only allowed to drive locally in the Hamptons, because my husband has infantilized me behind the wheel. When we were in Sicily we went all the way up Mount Etna and almost at the top he lost his vision. He pulled over and he said "I can't see." And I said "Okay, I'll drive," and he said "No. I'll drive." That's how much he hates my driving.
How has the Wall Street crash affected you?
It hasn't. Like Scarlett O'Hara, I believe in real estate.
Times, Post, or Daily News?
The Times, the Post, the News, and the Enquirer.
Where do you go to be alone?
In my head, with Scrabble on my iPad …
What makes someone a New Yorker?
Open-mindedness.