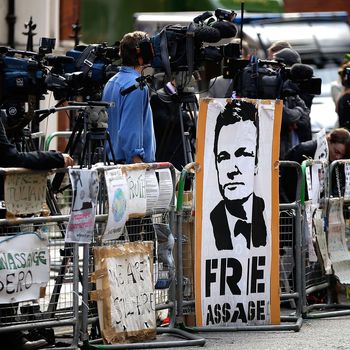 Photo: Matthew Lloyd/Getty Images
For a while, having Julian Assange crash at the Ecuadorian embassy in London wasn't that big of a nuisance. Sure, Assange was always there. But it wasn't his fault — he would be extradited to Sweden to face allegations of sexual assault if he ever left. And yeah, there wasn't really space for him there, so he "sleeps on an air mattress in a small office that has been converted to a bedroom," according to the New York Times. The paper also reports that Assange recently "had a bad cold and appeared depressed," which is just great for everyone else. But no matter! This is what friends are for.
Now things are getting really out of hand, though. Following reports that Ecuador would offer Assange asylum on some kind of human-rights grounds — asylum in the actual country, that is, not just in its London embassy — Britain made it clear that it would not allow that to happen, and even threatened to revoke the embassy's diplomatic immunity and forcibly remove Asssange from the building. This did not please Assange supporters, who began gathering outside the embassy yesterday, leading to three arrests.
Despite Britain's threats, Ecuador is not backing down. "We want to be very clear, we're not a British colony. The colonial times are over," foreign minister Ricardo Patino said in a statement yesterday. (For the record, Ecuador never was a British colony.) And this morning, Ecuador went ahead and officially announced its offer of asylum anyway. The U.K. was unmoved:
Under our law, with Mr Assange having exhausted all options of appeal UK authorities are under binding obligation to extradite him to Sweden. We shall carry out that obligation. The Ecuadorian Government's decision this afternoon does not change that.

We remain committed to a negotiated solution that allows us to carry out our obligations under the Extradition Act.
So the two countries are, for the moment, at an impasse, and it's unclear how the international standoff will be resolved. What an awkward houseguest.