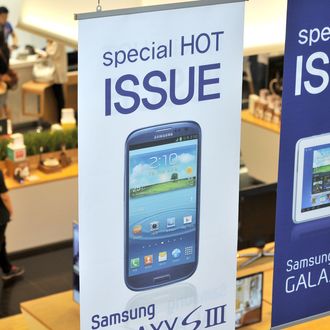 Samsung's phones (L) took a beating, but its tablet (R) came out swinging.
Yesterday was a big news day for the tech industry and about 50 million U.S. smartphone users: A California jury found that Samsung — the largest manufacturer of Google Android phones — was guilty of infringing on several Apple patents, such as those nifty pinch-to-zoom and tap-to-zoom features iPhone users love so very much. Samsung also apparently copied Apple's patented app grid and the "bounce back" effect created when a user scrolls past the end of a list, as well as the physical shape and design of the iPhone. But, "more damningly," notes the blog Engadget, the jury believes Samsung executives knew that their products broke the law.
As one industry analyst told the New York Times, this could lead to some "discomfort" for Android users as Samsung and its peers struggle to design around Apple's patents, which have pretty much become the industry standard. More immediately, Samsung may release a software update for its phones —  including the popular Nexus S 4G —  and could even be faced with an injunction order to cease sales of any infringement-guilty products.
Meanwhile, Apple's stock was up nearly two percent in after-hours trading, it's now $1 billion richer. The jury also sided with Apple in a Samsung countersuit. So, Apple CEO Tim Cook had no real choice but to release a gloating statement, applauding the jury "for finding Samsung's behavior willful and for sending a loud and clear message that stealing isn't right." (Steve Jobs once famously called Android a "stolen product," the Times' Nick Wingfield reminds us.)
Samsung has suggested that it will appeal the decision, though the company did enjoy at least one meager victory yesterday: The jury announced that its Galaxy tablet does not infringe on key iPad patents, likely swayed by Samsung's allusion to Stanley Kubrick's 2001: A Space Oddysey, which famously featured tablet devices on the big screen 36 years before Apple filed its patent.