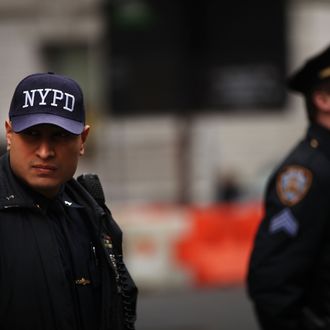 Photo: Spencer Platt/Getty Images
Kirsten John Foy, then the head of public affairs for public advocate Bill de Blasio, was tossed around and handcuffed last September at the West Indian Day Parade along with City Councilman Jumaane D. Williams for walking in a "frozen zone" despite being given permission by an NYPD commander and identifying themselves as city officials. At the time, the NYPD claimed the force was necessary because an officer was punched in the face amid the scrum, an excuse that was quickly abandoned, leaving Ray Kelly to apologize and three officers to be punished. For Foy, that's not quite enough: Now he's filing a lawsuit.
"When I was tripped, I felt something pop in my knee," Foy told the Daily News. "When I was lifted off the ground, rear-cuffed, something snapped in my shoulder." He had surgery in January to repair a fractured kneecap and torn ligament, and will need another procedure to address his rotator cuff injury.
Williams and Foy, who are both black, used the incident to highlight the abuses of the NYPD's stop-and-frisk procedures. "This isn't just about what happened to me," Foy said of his lawsuit alleging assault. "It happens thousands of times daily to Latino and African-American men who don't have a high profile like me to stand up and say something about it." He added, "The ultimate bottom line will be a change in policy and a change in police behavior."
Video of the incident shows Foy being grabbed by the neck before having his leg swept. And, for the record, no punching: