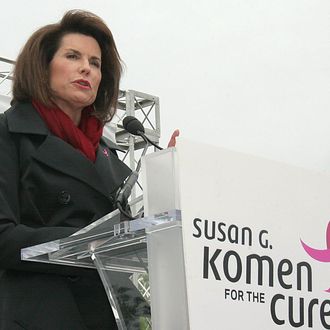 Brinker.
Photo: Karen Bleier/AFP/Getty Images
Susan G. Komen for the Cure announced some major changes at the top of the foundation on Wednesday, including the resignations of president Elizabeth Thompson and two members of its board of directors, and a new role for founder and current CEO Nancy G. Brinker, reports The Wall Street Journal. Brinker said the changes had nothing to do with the Planned Parenthood controversy that began in late January of this year when the foundation announced that it would sever its ties with and no longer provide funding to Planned Parenthood. Komen backtracked only a few days later after widespread outrage, with Brinker and the board writing in an statement, "We want to apologize for recent decisions that cast doubt upon our commitment to our mission of saving women's lives."

According to the Journal, Brinker said the organization is now "very sensitive" that its work and employees aren't interpreted as political, calling Komen "pro-cure."
In May, four months after the Planned Parenthood firestorm began, Talking Points Memo reported that foundation was apparently still suffering brand damage, with its signature Race for the Cure events drawing lower-than-expected participation — pretty severely in some places like Washington, D.C., where 25,000 people signed up, a 37.5 percent decrease from the 40,000 participants one year prior.

Brinker will keep her seat on the board but will switch into a new management position as chair of the Komen Board Executive Committee when the foundation completes it search for a president, chief executive, and chief operating officer. "I was asked by the Board in 2009 to assume the CEO role," Brinker said. "Three years into that role, and 32 years after my promise to my sister to end breast cancer, I want to focus on Susan G. Komen's global mission and raising resources to bring our promise to women all around the world."