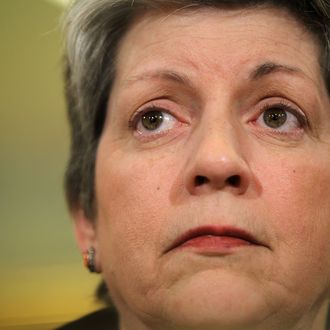 Janet Napolitano.
Photo: Alex Wong/Getty Images
A lawsuit filed in federal court in Washington, D.C. alleges that Homeland Security Secretary Janet Napolitano allowed her department to operate as a "female-run frat house" (we guess "sorority" didn't sound menacing enough) where male employees were "routinely humiliated." A New York special agent in charge of immigration and customs enforcement, James Hayes, is seeking $335,000 in damages over claims that U.S. Immigration and Customs Enforcement chief of staff Suzanne Barr sexually harassed him and his male colleagues.
Barr "moved the entire contents of the offices of three employees, including name plates, computers and telephones, to the men's bathroom at ICE headquarters," the suit says.

Barr also stole a male staffer's BlackBerry and fired off a message to his female supervisor indicating that he "had a crush on [her] and fantasized about her," Hayes claims. Sometimes, Barr took a more direct approach. In one case, she called a male colleague in his hotel room and screamed at him using sexually humiliating language, the suit says.

Hayes claims that after he reported the abuse to the Equal Employment Opportunity office, Napolitano launched a series of misconduct investigations against him.
The suit also accuses Napolitano of passing Hayes over for a promotion to head New York City's Department of Corrections in favor of Dora Schriro, who, Hayes says, got the job because of her "long-standing" friendship with the secretary, despite being underqualified for the position.
It's worth noting that much of the coverage of this supposed case of reverse sexism is itself pretty sexist: The New York Daily News and Matt Drudge have charmingly referred to Barr and Schriro as Napolitano's "gal pals," while the New York Post could not help itself from mentioning that Napolitano has been repeatedly forced to answer questions about whether or not she is a lesbian. They noted: "The suit doesn't detail the nature of [Napolitano and Schriro's] relationship."
Meanwhile, Napolitano herself has not responded to the claims. Immigration and Customs Enforcement has released a statement reading, "ICE doesn't comment on unfounded claims and will respond to Mr. Hayes' allegations as appropriate through the judicial system."