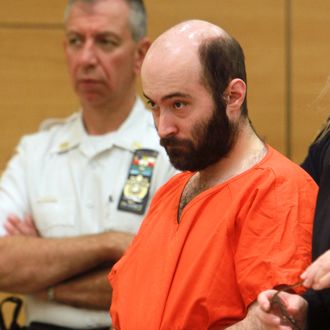 Brooklyn's Levi Aron is expected to plead guilty next week in the brutal killing of 8-year-old Leiby Kletzky last summer, the Daily News and NBC report. Aron is due in court on August 9, and plans to take a deal that hands down a sentence of 40 years to life, while avoiding a painful trial, according to sources, although lawyers in the case have declined to comment. "There is a deal," said Assemblyman Dov Hikind, of the Orthodox neighborhood Borough Park, where the abduction and murder occurred. "But can things change? Until this is officially announced, things can change." He added, "The family has to live with this for the rest of their lives. They want to bring this to a conclusion."
That puts the decision to the accused killer. "At any moment, Levi Aron can change his mind," Hikind warned.
Kletzky disappeared on July 11, 2011, the first time he was allowed to walk home alone from day camp, sending the tight-knit neighborhood into a panic. As reported in New York by Matthew Shaer, a dramatic search commenced, but ended when the boy's body was found in a dumpster, dismembered in a suitcase. Kletzky's severed feet were found in Aron's apartment.
In a written confession, Aron said Kletzky approached him for directions. He took the child to a wedding and kept him overnight, but panicked when he saw the missing person signs, he said, opting to smother the boy and attempt to dispose of the body. Prosecutors did not allege sexual assault.
Aron was declared fit to stand trial last August, but a psychiatric evaluation found his mood to be "neutral, practically blank."