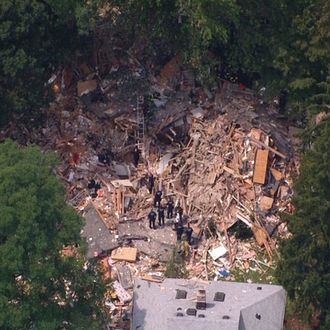 Photo: News 12 Long Island/AP
A sudden explosion around noon yesterday reduced a two-story house in Brentwood, Long Island, to a pile of rubble, killing 18-month-old Rah-Quan Palmer and injuring at least fourteen others. Among those treated for injuries were the six people inside the home at time of the blast, several first responders, and neighbors, whose own houses were pelted with shrapnel.
Investigators are still trying to determine the cause of the blast, but all signs point to the two 200-pound propane tanks that sat just next to the home. A neighbor who helped rescue residents told the New York Post that the smell of gas immediately after the explosion was overwhelming.
The people living in the home, which sold for $410,000 in 2005, were distant relatives of Brooklyn-based owners Marcel Richard and his wife. Islip Town officials were no strangers to the home, which was being used as an illegal rental last year, earning Richard a $3,000 fine. The house has also been the site of recent code violations.