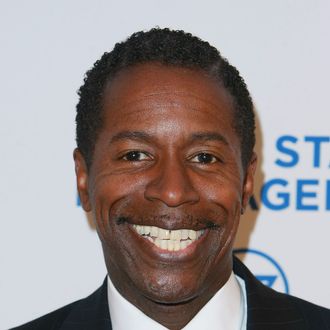 Malcolm Smith could use some reasons to smile these days.
Photo: Neilson Barnard/Getty
Mutual desperation produces strange bedfellows. Today's example: the Malcolm Smith as Republican candidate for mayor trial balloon. When Smith, from Queens, was Democratic State Senate majority leader in 2009, he bungled his way out of the job in five months. Now the State Senate Democrats are the minority faction, mired in debt and marginalized by Governor Andrew Cuomo. Smith, meanwhile, has been denying any role in two scandals: the bid-rigging for casino business at Aqueduct and the diversion of Hurricane Katrina charitable donations. Two weeks ago, the Daily News detailed the $41,000 in campaign cash that Smith spent on jaunts stretching from Beijing to a Big Daddy's liquor store in south Florida.
This week, Smith suddenly became very chatty about his flirtation with the Republicans, first telling the website City & State about it and today blabbing to the Post, getting himself some positive front-page ink. The city GOP is also groping for good news: It hasn't been able to find a credible candidate for mayor in 2013. Its great hope, Ray Kelly, turned them down, unwilling to risk the widespread popularity he's earned as police commissioner for a job he's never really wanted. Smith and the Republicans, however, have nothing to lose. Maybe we haven't hit the bottom in 2013 candidate speculation. But we're getting close.