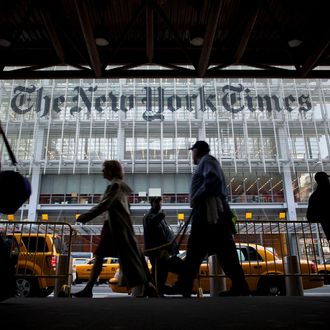 Photo: Michael Nagle/Bloomberg via Getty Images
Well, this surely isn't going to assuage fears about the liberal conspiracy involving newspapers, the government, and Hollywood: The conservative group Judicial Watch today published a trove of documents acquired via the Freedom of Information Act meant to illuminate communications between intelligence agencies and screenwriter Mark Boal, who's working with director Kathryn Bigelow on the forthcoming thriller Zero Dark Thirty about the killing of Osama bin Laden. Included in the documents is an e-mail from Pulitzer Prize–winning national security reporter Mark Mazzetti to a CIA spokesperson including a then-unpublished Maureen Dowd column. "[T]his didn't come from me," he writes, "and please delete after you read. See, nothing to worry about!"
The correspondence, as pointed out by Gawker reporter John Cook, includes the text of a Dowd column that ran in the paper two days later, including this section on the CIA's involvement in the bin Laden film:
The moviemakers are getting top-level access to the most classified mission in history from an administration that has tried to throw more people in jail for leaking classified information than the Bush administration.

It was clear that the White House had outsourced the job of manning up the president's image to Hollywood when Boal got welcomed to the upper echelons of the White House and the Pentagon and showed up recently — to the surprise of some military officers — at a C.I.A. ceremony celebrating the hero Seals.
Mazzetti's attempt to soothe the government flack's concern by sharing someone else's work could be seen as a shady attempt to get in good with a CIA source — and relates to the media conversations earlier this summer about the ethically questionable reporter's practice of sharing stories with sources, and even giving them veto power over quotes.
But Times managing editor Dean Baquet insists this is nothing of the sort. "The optics aren't what they look like," he told Politico. "I've talked to Mark, I know the circumstance, and given what I know, it's much ado about nothing." Baquet said he "can't go into in detail" because it's an intelligence matter. The question remains whether that means Mazzetti had permission from an editor, not to mention Dowd, and where the leak fits in with the Times' existing policy on sharing stories ahead of publication. We've reached out to Baquet and Dowd and will update when we hear back.
Update: A New York Times spokesperson provided the following statement to Daily Intel:
Last August, Maureen Dowd asked Mark Mazzetti to help check a fact for her column. In the course of doing so, he sent the entire column to a CIA spokeswoman shortly before her deadline. He did this without the knowledge of Ms. Dowd. This action was a mistake that is not consistent with New York Times standards.