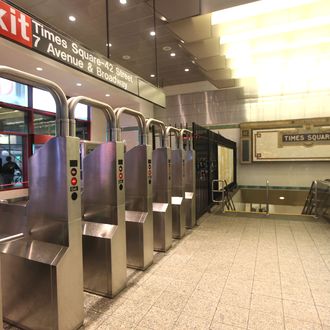 Photo: Mario Tama/Getty Images
A fight in the Times Square subway station early this morning turned bloody when a group of men slashed two victims with the shards of a broken beer bottle. Police say an argument erupted between the two friends and the five attackers in front of a subway elevator. One man from the group smashed a Corona bottle over a victim's head, then he and another man used the shards to attack them. "He was slicing, slicing, and the one guy was covered in blood, all down his shirt," newsstand worker Sohar Wardhi told the Daily News.
The two wounded men, 24 and 33 years old, fled for help, with the younger making his way to an exit at 41st Street and Seventh Avenue before collapsing. Both men were taken to Bellevue hospital, where they've been treated for cuts to the neck, arms, hands, and face. Police said they found one of the attackers but are still hunting for the others.