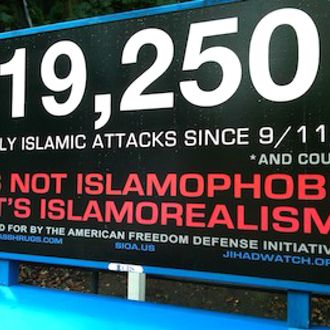 Photo: Office of Paul Feiner
A pro-Israel group has fired the latest shot in the billboard battle between Muslims and Jews with a Metro-North ad reading: "19,250 Deadly Islamic Attacks Since 9/11/01 and counting. Not Islamophobia, It's Islamorealism." Sponsored by the American Freedom Defense Initiative, the billboard comes on the heels of a pro-Palestinian billboard showing changing borders since 1946 and a pro-Israeli billboard highlighting Palestinian refusals to accept peace offers.
Now a local politician is calling on Metro-North to warn passengers about potentially offensive billboards and to spend the money made from them on an anti-discrimination campaign. "There are many Muslims residing in Greenburgh and in our villages," Greenburgh Town Supervisor Paul Feiner told the Daily News. "They should not be discriminated against. The posters encourage hatred, discrimination and do not help the efforts to fight hate crimes."

The AFDI's Pamela Gellar argues that the ad isn't offensive at all and simply points out facts. "It is, as the ad says, Islamorealistic." But at least one prominent pro-Israel group disagrees. In a statement to NBC4, the Anti Defamation League said, "We believe these ads are highly offensive and inflammatory. Pro-Israel doesn't mean anti-Muslim."
Surprising as it seems, Metro-North billboards may not solve this conflict.