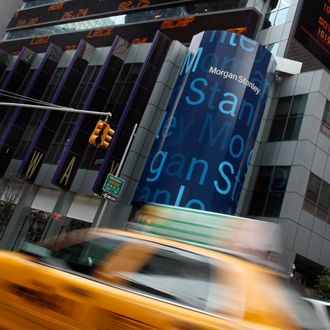 Nobody's in the office. Whatever, let's just write this story.
Photo: Richard Drew/APAP2010
If you were a tech writer and your editor came to you this week and said, "Get me a story on Facebook, stat," you had some fairly good choices: The social network's new iPhone app, the company's self-proclaimed "transformation into a 'mobile first' company," the fact that the Instagram deal finally got the FTC's seal of approval.
You would probably pick any of those topics over writing yet another story on the endless fallout from the company's failed IPO, right?
Not if you're The Wall Street Journal, you wouldn't! Today's paper carries a story on how the Facebook IPO has hurt yet another set of investors in a vague and indeterminate way.
As it turns out, those investors are people who have money in Morgan Stanley mutual funds, which are significantly bloated with Facebook shares:
New data show that eight of the top nine U.S. mutual funds with Facebook shares as a percentage of total assets are run by Morgan Stanley's asset-management arm, according to fund tracker Morningstar Inc.
Morgan Stanley, of course, is the bank that was lead underwriter on the Facebook IPO, which makes it all sound a bit collusive and sketchy. But the Journal goes on to point out that just because Morgan Stanley's mutual funds have a lot of Facebook shares doesn't mean those funds' investors have taken huge losses. In fact, they could have made money, since many of the shares were pre-IPO shares purchased well below the $38-a-share IPO price.
But what about the lead underwriter thing? Doesn't that mean that Morgan Stanley's tech bankers tipped off its mutual fund managers about the impending hugeness of the Facebook IPO, giving those managers a head start on loading up on the shares? Isn't this an indescribably huge scandal?
There's no sign that fund managers at Morgan Stanley bought Facebook shares because of the firm's underwriting relationship with Facebook, or to help curry favor with Facebook executives who chose Morgan Stanley for a key underwriting assignment in the spring IPO.

[Some guy who has, like the WSJ reporters, not seen any of the actual trading records hinted at in this story] cited "psychological factors" as a possible explanation for the large investments, driven by the fact that many of the funds owned a big chunk of Facebook shares before the company sold shares to the public.
Slow business news day? Slow business news day.