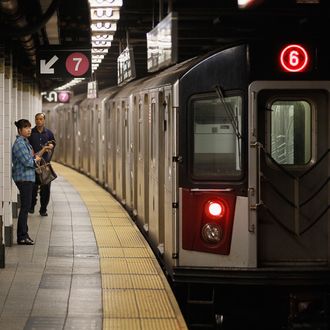 Presumably, this train made it to its destination without crashing.
Photo: Joe Raedle/2011 Getty Images
Over the past twelve years, several MTA inspector general reports found that workers were faking inspection reports on track signals, which prevent subway cars from crashing into each other. The MTA's solution was to affix bar codes to the signals to ensure they were actually being inspected, but in an impressive feat of laziness — or desperation, perhaps — workers allegedly kept a a binder of copied bar codes and scanned the book rather than actually doing their jobs. Ten workers were arrested today in the years-old fraud case, but in their defense, they say the higher-ups wanted way too many safety inspections.
The New York Post reports that eight TWU Local workers were indicted for tampering with public records, which is a felony, and two of their immediate supervisors are facing record-tampering and official misconduct charges. Union officials complained that only their workers were charged and accused upper level management of creating a scheme to inflate the number of inspections.
Arthur Z. Schwartz, a lawyer provided by the union to its six maintenance workers, said in court that the men were justified because their bosses were pushing them to meet impossible quotas. "We want to assure the public that at no time did any one of these people not correct, or work on, or check the safety of a signal," said Schwartz, according to DNAinfo. "They always did the tests that were necessary to ensure the safety of the public."
It's unclear how the workers determined which signal inspections were potentially preventing dangerous subway accidents and which were merely busy work.