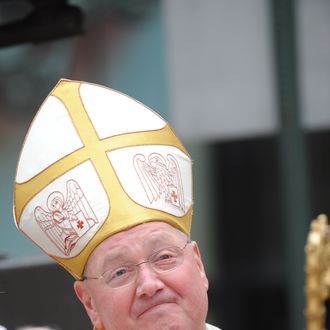 Timothy Dolan is probably okay with this.
Photo: Susan Watts-Pool/Getty Images
It appears that New York City isn't quite the bastion of godlessness and secularism that much of the country probably imagines it to be. According to a new Quinnipiac poll, 30 percent of New York City voters admit that they would be less likely to support a politician who happened to be atheist, compared to 7 percent who would be more inclined to lend their support and 61 percent who don't really care. In fact, an atheist politician would face more of a backlash at the polls than a born-again Christian, a Mormon, or a Muslim. Oddly enough, this bias was actually a bit stronger among 18–34-year-olds than it was among 50–64-year-olds. We wonder how many of them have voted for an atheist without knowing it.