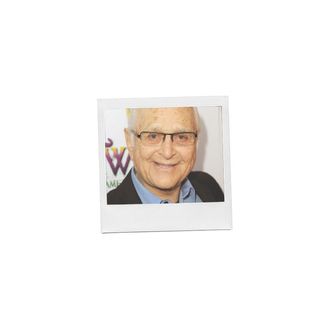 Photo: Kevin Winter/Getty Images
Name: Norman Lear
Age: 90 (On July 27. Happy Birthday, Norman!)
Neighborhood: Central Park West, "In the much-celebrated Stern building"
Occupation: Writer/producer, All in the Family, Sanford and Son, One Day at a Time, The Jeffersons, Good Times, etc. etc. etc.
Who's your favorite New Yorker, living or dead, real or fictional?
I think I'd like to word that question another way: Who would I like to have a meal with. I'd like to have a heart-to-heart with God, who must be a New Yorker since he's everywhere. I would take him for a Sabrett hot dog on the corner, and walk into the park and talk. 
What's the best meal you've eaten in New York?
You know, this is going to sound so treacly, but my favorite meal is whatever I'm enjoying at the moment. If I'm really enjoying that hot dog — and I really do love those hot dogs, the Sabretts — it might as well be the next meal at Per Se, or any other fancy place. It's the moment that matters.
In one sentence, what do you actually do all day in your job?
[laughs] What do I do all day. There's more than one thing that's my job, always. Right now I'm writing a memoir, so I'm attempting to scrape the barrel of my own experiences. 
What was your first job in New York?
My first job in New York was working for George and Dorothy Ross, which handled Broadway shows and actors and writers and producers. I wanted to be a press agent, it's all I ever wanted to be. I was a kid in the Depression, and there was one uncle — a press agent — who used to flick quarters. And I loved him and the idea of being able to flick a quarter to a nephew. I didn't even know what the hell a press agent was when I was eight years old. But that stayed with me, and that was my first job, after I served abroad.
What's the last thing you saw on Broadway?
Porgy and Bess. I loved it.
Do you give money to panhandlers?
I do.
What's your drink?
Vodka, mixed with a little cranberry.
How often do you prepare your own meals?
I make every breakfast, for myself and my 17-year-old twin daughters. I make breakfast for them before they go to school. I like the thinnest slice of whole-wheat bagel, cream cheese, onions, smoked salmon. With salad. I eat a salad every morning.
What's your favorite medication?
My wife.
What's hanging above your sofa?
It's a Kenneth Noland stripe painting, that just looks like it ought to be there. What's more interesting is what's behind the sofa: a sculpture of the Rockettes. It's about sofa-high, and the figures — which are about seven or eight inches — are on a little table. It's all metal. They're in a high kick and each one is just a little different. And it was sculpted by, surprisingly, Michael Kanin. Michael Kanin was married to Fay Kanin, and together they wrote most of the Spencer Tracy, Katherine Hepburn films.
How much is too much to spend on a haircut?
More than you can afford.
When's bedtime?
I told you I was married, but still I go to bed with Jon Stewart.
Which do you prefer, the old Times Square or the new Times Square?
I like today. I always like today, better than yesterday. I like the signs, especially when we had one up there. When we were doing Declare Yourself, we had three huge signs up there, all about turning out the youth vote. I loved it.
What do you think of Donald Trump?
I think he's the worst-looking toy Mattel ever made.
What do you hate most about living in New York?
There are times that I get frustrated by the traffic.
Who is your mortal enemy?
The people around the world who turn God against me (and you, and everyone else). Those who use God as a weapon.
When's the last time you drove a car?
About 35 minutes ago.
How has the Wall Street crash affected you?
Poorly. We've lost money, we've lost respect for a sense of fairness, respect for honesty, and caring. 
Times, Post, or Daily News?
Oh, I read the Times.
Where do you go to be alone?
Into my head.
What makes someone a New Yorker?
I think you have to love people, because there are so many. What makes a New Yorker is the feeling that each of us is just another version of the other.