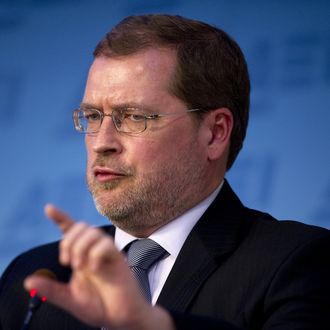 Grover doesn't approve.
Photo: JIM WATSON/2011 AFP
Yesterday the nation met Texas judge Tom Head, a man who wants to raise property taxes in order to better fund Lubbock County's police force because there will be a civil war (maybe) followed by a U.N. invasion if President Obama is reelected. Head further clarified that while this chain of events "probably isn't going to happen," he sees it as his duty to prepare for the "worst case scenario." Sounds reasonable enough.
But Grover Norquist, the country's leading anti-tax crusader, refuses to give his blessing to Head's plan. Asked for a ruling on whether such a tax increase — vital, as it is, to maintaining the sovereignty of the United States, or at least Lubbock — would be kosher, Norquist told us in an e-mail, "Tax increases lead to civil unrest … Google King George/tea/molasses/stamp/tax." In other words, if it's "civil war, maybe" that Head is worried about, raising taxes would be counterproductive.
But if raising taxes leads to civil unrest, and not raising taxes leaves Lubbock unprepared for the inevitable U.N. invasion, then really, Lubbock is screwed either way. Sorry, Lubbock, you had a good run.