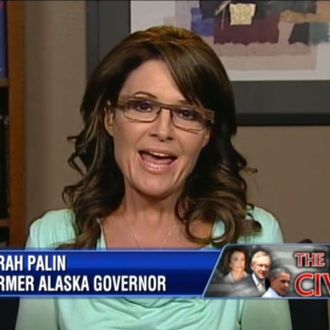 Maybe those new glasses aren't working.
Four years ago, Sarah Palin delivered the most memorable speech of the Republican National Convention. Yet while the latest Republican vice-presidential nominee was preparing to take the stage tonight, Palin got confirmation that America has found new sources for folksy hunting anecdotes and unusually named children. Weeks after it was announced that Palin wouldn't be making an appearance at the convention, on Wednesday night she took to Facebook to complain that she's also been cut from Fox News' coverage of the event.
If there was ever a time when Palin actually could offer expert analysis it was tonight, when in addition to Paul Ryan's speech the convention featured an address by her former running mate John McCain. However, Palin says the network wasn't interested in hearing her rehash the 2008 election:

I'm sorry Fox cancelled all my scheduled interviews tonight because I sure wanted to take the opportunity on the air to highlight Senator John McCain's positive contributions to America, to honor him, and to reflect on what a biased media unfairly put him through four years ago tonight. Granted, our honored and esteemed war hero has gone through much more than the liberal media can ever do to him in their efforts to harm this patriot. I look forward to hearing his words to his fellow Americans tonight more than any of the other convention speeches. God bless John McCain. Thank you for everything. And happy birthday, my friend.
Bill Shine, the executive vice president of programming for Fox News, said the network simply didn't have time for their onetime favorite. "Our plans changed based on the fact that the RNC condensed the schedule of speeches from four nights to three," he said, according to the Wrap. "We look forward to having Governor Palin back as soon as we can."
At least there's still one person who's interested in hearing Palin's thoughts on the lamestream media. Piers Morgan Tweeted, "If Fox don't want you tonight @SarahPalinUSA - come on my show. Be happy to talk about @SenJohnMcCain with you." Though, considering that Morgan interviewed an empty chair last week, he might not be all that picky.