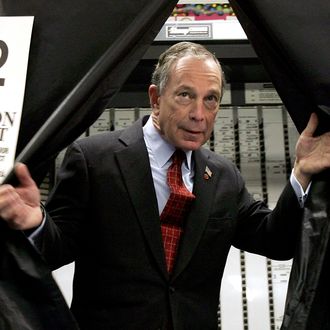 Mayor Bloomberg isn't buying it.
Following New York's June 26 Congressional primary, it took the city's Board of Elections multiple days to deliver accurate results, leading to fears that the race between Representative Charlie Rangel and State Senator Adriano Espaillat would devolve into a mini Bush v. Gore. Mayor Bloomberg and the New York Times have called the incident just the latest example of the board's "incompetence," thus, City Council members were surprised to hear Dawn Sandow, the board's deputy executive director, describe "how well the board performed for the voters of New York City," at a Wednesday hearing.
The hearing was called to discuss what led to the problems on primary night, but Sandow said she needed to "set the record straight" because the debacle was actually the media's fault. "Sadly, some members of the media no longer rely on facts or seek to expose the truth, but rather seize on false and sensational allegations promoted by certain candidates for the sole purpose of increasing their name identification," Sandow said, according to the New York Times.
City Council members were unsympathetic and stuck with their original plan for the hearing: berating the board. Christine Quinn was particularly irate, as she and her then-fiancée had their vote disqualified after a poll worker gave them the wrong ballot (eventually their votes were counted). "I am concerned that you entered the analysis of the June federal primary with the mindset that you had done well," said Quinn.
There was other evidence on Wednesday that the Board of Elections did a less than stellar job. The Associated Press reports that a judge ruled in a lawsuit filed by advocates for the disabled in 2010, finding that the city violated the Americans with Disabilities Act by allowing "pervasive and recurring barriers to accessibility" at polling places operated by the board.
The Board of Elections has already made changes to how it conveys preliminary results. Rather than having poll workers tally votes by hand and pass the numbers off to police officers, the NYPD will get memory sticks from ballot scanners and turn over the data to the Associated Press. City Council members said that even though this will eliminate a potential miscount, they're still concerned about the board's ability to carry out the elections on the horizon, including legislative primaries in September and the presidential election in November. "This is the foundation of our democracy and I don't want excuses," said Councilwoman Jessica Lappin. "I want you to do your jobs well."