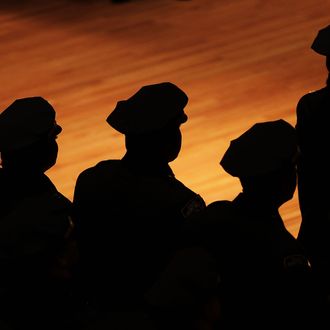 Photo: Spencer Platt/Getty Images2012 Getty Images
All of the time, energy, money, and potential civil-liberties violations that went into the NYPD's once-secret program for spying on Muslims in and around New York City resulted in a grand total of zero leads and investigations, reports the Associated Press, which originally blew the story wide open last year. "I never made a lead from rhetoric that came from a Demographics report, and I'm here since 2006," said Thomas Galati, the head of the NYPD Intelligence Division, in newly unsealed court testimony from June. "I don't recall other ones prior to my arrival. Again, that's always a possibility. I am not aware of any." Okay then!
The eavesdropping, cataloguing of mosques, infiltrating of student groups, and so on carried out by the department's Demographics Unit (which the NYPD once denied existed) has come under fire as bald-faced religious profiling, but has been repeatedly defended by Mayor Bloomberg and Ray Kelly as necessary and legal post-9/11. But according to Galati, "Related to Demographics," the info gathered "has not commenced an investigation."
The AP adds:
After the AP began reporting on the Demographics Unit, the department's former senior analyst, Mitchell Siber, said the unit provided the tip that ultimately led to a case against a bookstore clerk who was convicted of plotting to bomb the Herald Square subway station in Manhattan. Galati testified that he could find no evidence of that.
The department, though, has been known to exaggerate.