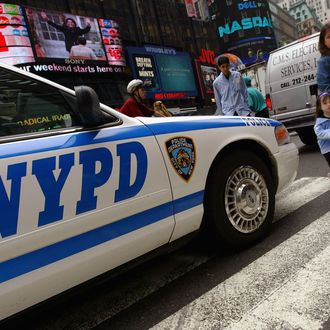 Photo: Spencer Platt/2004 Getty Images
A long time ago, one could smoke pot (or do much worse) on the streets of Times Square without anyone paying attention, but in the present day, very few people would light up in front of the Hard Rock Cafe on a Saturday during high tourist season and expect to go unnoticed by the police. Yesterday, however, such an act was attempted by an unnamed 51-year-old man. Sadly, it ended in his death.
When the cops approached the man — who, according to the New York Times, was known around Times Square for asking for spare change while occasionally wearing a full ninja costume — he took out a large kitchen knife and ran, taunting the dozen officers who were chasing him and swinging at tourists along the way. He was shot after refusing multiple demands to drop the knife (and being pepper-sprayed six times), reports New York 1.
While it's not yet clear why the man resisted arrest, the sequence of events was well-documented — the commotion attracted a large crowd of onlookers, including passengers on the a double-decker sightseeing bus. "Some people were crouching near an office building," said one out-of-towner. "But others took out the cell phone cameras to try and capture it."