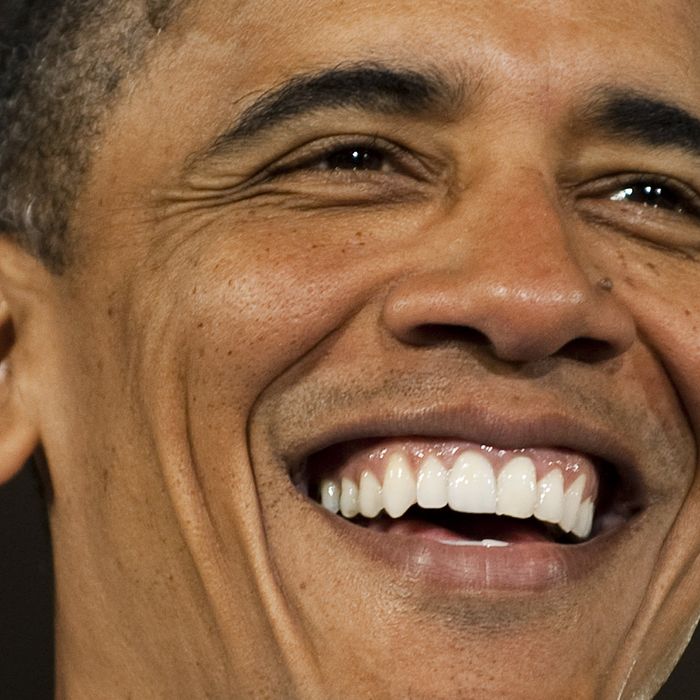 Photo: JIM WATSON/2011 AFP
Reporters have found that both Republicans and Democrats consider President Obama a more prohibitive favorite than the polls would indicate. This is further bolstered by the fact that Romney has tossed out his original plan — make the election a pure economic referendum, concede Obama is a nice guy in over his head, and pick an Incredibly Boring White Guy as vice-president who won't distract from these themes — to instead run a sharper ideological-contrast campaign.
What could explain the gap between the campaigns' apparent belief that Obama is strongly positioned to win and polling showing an extremely tight race? I suggested that many of the polls showing a tight race had found a whiter electorate than either campaign expects, and that if you account for this factor, Obama's lead, while still small, looks more secure.
Sean Trende has a rebuttal that, I think, misconstrues my argument. He suggests that the white vote may be more than the 74 percent I peg as a fair baseline. That is entirely possible, but I did not come up with this figure. I cited a Ron Brownstein report that suggests both campaigns expect it. Both campaigns could turn out to be expecting more nonwhites to vote than actually show up, but I think that if the two sides really do have the same benchmark, then that's probably the best benchmark.
Trende likewise characterizes my column as an attempt to "explain why certain polls should be ignored, or dismissed." I certainly didn't argue that certain polls should be ignored or dismissed. But I should be more clear what I do think — I think the best approach is to focus on the racial breakdown. Here I'm following the example of Nate Cohn, who has noted for months that Obama's support among nonwhite voters has remained high and stable, and has focused on the break-even point among white voters. Brownstein's reporting arrives at a similar conclusion — Romney needs to win a bit more than 60 percent of the white vote.
I wouldn't ignore polls, but I'd read them through this lens. A poll that shows Romney gaining because he's gaining among white voters is a good sign for him. A poll that shows him gaining merely because it has a smaller sample of minorities is not. Right now, Romney seems to be pretty far below his own campaign's target level of performance among whites:
Hence my conclusion: Romney needs to either get a friendlier electorate than either he or Obama expect, or to pick up his performance.