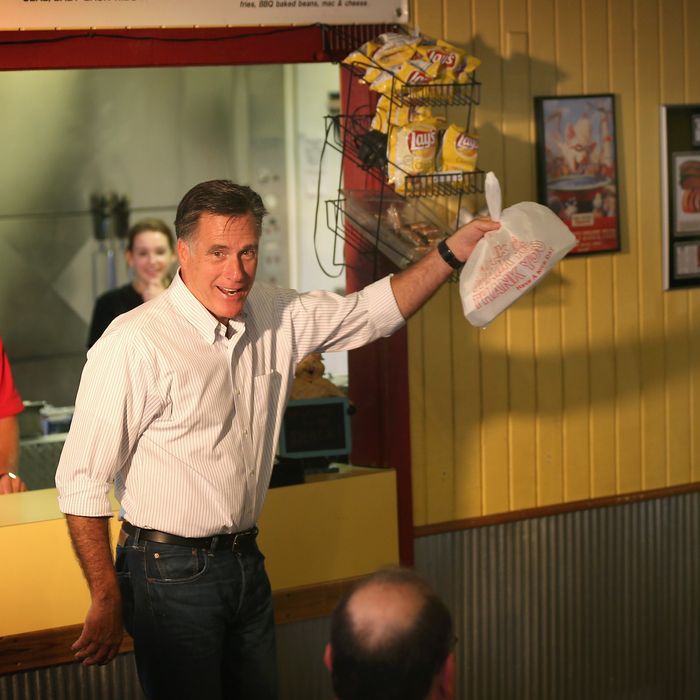 Romney-Hood stealing from someone to give to someone. (Scott Olson/Getty Images)
Photo: Scott Olson/2012 Getty Images
At the less fancy of his two Monday night Connecticut fund-raisers, President Obama debuted a punny-ish line about Mitt Romney's proposed tax code. "It's like Robin Hood in reverse," he said to the 500 donors gathered at Stamford's Marriott Hotel. "It's Romney Hood." The inspiration for that brief tale is presumably a recent study from the Brookings Institution and the Tax Policy center, which concluded that Romney's plan would provide large cuts for the country's wealthiest people while increasing the burden of middle-class taxpayers by about $2,000 per year.
The presumptive GOP nominee and his Republican allies, Obama said, believe that if they "give more tax breaks to some of the wealthiest Americans. . . then somehow prosperity will rain down on everybody. That's their theory, where they will take us if they win."

"Their economic theory won't sell, so their ads say the same things over and over: The economy's not doing well and it's all Obama's fault," Obama said. "That may be a plan to win an election but that's not a plan to create jobs, to grow the economy or provide for the middle class. They don't have that plan. I do."
The Romney campaign kept with the story-time theme in their response, with spokesman Ryan Williams issuing a statement that read, "President Obama recently said the biggest regret of his first term was not telling better stories. He's trying to make up for it now, but his stories just aren't true." He went on to say that the president has, "Used taxpayer dollars to grow government and reward his donors, middle-class Americans have seen fewer jobs, lower incomes, and less hope for the future."
Actual policy specifics aside, the line was reportedly a crowd-pleaser and seems likely to become a regular feature of Obama's stump speech — as well as to generate some Photoshop masterpieces of Mitt in green tights.