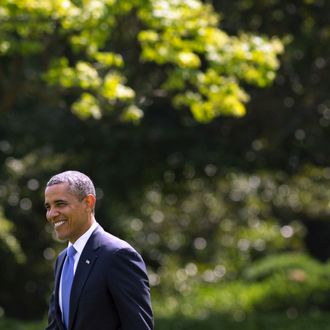 Photo: Saul Loeb/AFP/Getty Images
With less than 100 days left until the election, Barack Obama leads Mitt Romney in the big battleground states of Ohio and Florida, and has jumped out to a double-digit lead in Pennsylvania, according to a Quinnipiac University/CBS News/New York Times poll out today. The president is scheduled to appear in Ohio this afternoon, where he holds a 50-44 advantage over Romney, thanks in part to the support of women, who go his way by a 21-point margin. Obama's cushion in Florida has grown as well (51 percent to 45 percent). While Romney leads among whites and old people in the Sunshine State, Obama is favored by men, women, and Hispanics.
"The president is running better in the key swing states than he is nationally," said Peter A. Brown, assistant director of the Quinnipiac University Polling Institute, who checked in with likely voters between July 24 and July 30. "Part of the reason may be that the unemployment rate in Ohio is well below the national average.  In Florida it has been dropping over the past year, while nationally that has not been the case." To Obama's advantage, economic forecasts have both Ohio and Florida growing in the months to come.
In Pennsylvania, Obama is riding the support of women and independents to an eleven-point lead, 53-42 percent, making it less likely that the state will be in play this time around.
Romney suffers when it comes to favorability — no thanks to pro-Obama ads that have attacked Mitt's record at Bain and his refusal to release tax returns. Some 42 percent of voters believe his business background will help create jobs, but half believe it's too focused on profit; 50 percent want to see more tax data.
While there's certainly time left, Obama hitting at least 50 percent in all three states is a statement. He carried all three states in 2008, and no candidate since 1960 has reached the White House without winning at least two of them.