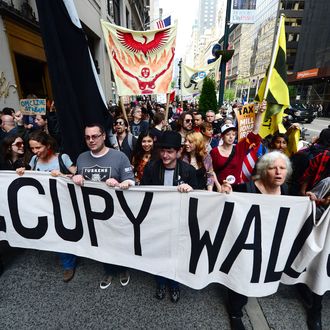 They're baaaaack.
Photo: EMMANUEL DUNAND/AFP/Getty Images
After a long hiatus spent reading Ishmael and teaching their aunts about freeganism, the rabble-rousers behind the Occupy Wall Street movement are staging a comeback in New York. And this time, they intend to take a few bankers into their clutches.
The movement's organizers, Bloomberg reports, are gearing up for "S17," the one-year anniversary of the protest's September 17 start date. The birthday festivities, organizers say, "may include attempts to make citizens' arrests of bankers, and some activists intend to bring handcuffs."
Okay, Occupy. Let's have a chat.
Last time you did this, you did an admirable job of advancing your cause, but you had the location part all wrong. Zuccotti Park wasn't on Wall Street proper, sure, but Wall Street is mostly a midtown production these days anyway. The bigger issue was that very few actual Wall Street types (save the odd Deutsche Banker on her way to lunch) go to Zuccotti. If you want to corral Wall Street wrongdoers this time around, you're going to have to take the fight to their turf.
Try these places first:
1. J-Tree. Swing a billy club at this Murray Hill bar (or, really, any Murray Hill bar), and you'll hit at least a half-dozen analysts in Thomas Pink shirts talking about emerging markets.
2. Stone Street. Just as rife with bankers as Murray Hill, but saves you the trip to the East Thirties.
3. Teterboro. Forget the Port of Oakland or the Brooklyn Bridge. If you want to shut down global commerce, head across the GWB to Teterboro Airport, where every financier worth his salt takes off and lands. Security is tight, but that's never stopped you before.
4. STK Midtown. This restaurant-bar thingy is to Wall Street obnoxiousness what One Direction concerts are to estrogen. Last time we were there, the bar filled up with bulge-bracketers by 6, Charlie Gasparino showed up at 7:30, and a commercial real estate guy bent our ear with a tale about the midget-throwing party he throws every Halloween.
5. The Far Hills Hunt. It's a bit of a trek, and you'll have to wait till October, but if you can make it out to New Jersey for this annual celebration of carried interest and critter pants, you won't be disappointed.
6. Charles Tyrwhitt on 46th and Madison. Where entry- and mid-level Wall Streeters shop for clothes. Head up to 57th Street and the Zegna store if you're aiming for executive-level arrests.
7. Fashion Week parties. Look for the guys in Ferragamo loafers with close-cropped hair and a little pudge around the middle. They're your men.
8. And if all else fails, Any Single Commercial Building, Private Residence or Public Space in Fairfield County, Connecticut, should do the trick.