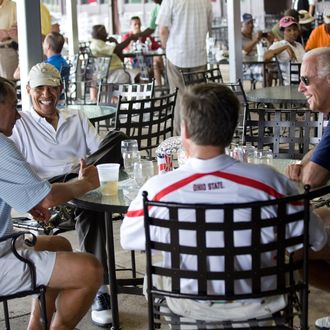 Biden and Kasich after playing a round last year.
Photo: The White House/2011 The White House
After bragging about Mitt Romney's impact on the Olympic Games in Salt Lake City during his speech Tuesday at the Republican National Convention, Ohio Governor John Kasich took a turn for the awkward. "Folks, let me tell you this – Joe Biden disputes a lot of those facts, but Joe Biden told me that he was a good golfer. And I've played golf with Joe Biden, I can tell you that's not true, as well as all of the other things that he says." Zing! Kasich really went there — discrediting the whole of Vice-President Joe Biden based on his abilities on the links, and his alleged representations of those skills.

But as the Washington Post points out, Biden is ranked an impressive 29th with an only 6.3 handicap on Golf Digest's top 150 golfing politicos in Washington. It seems Kasich was referencing a round they played at the 2011 "Golf Summit" when Biden and Kasich paired off against President Obama and John Boehner at Andrews Air Force Base, agreeing "by mutual consent" not to release their scores. Technically Kasich complied, but not in spirit. Next time the governor feels compelled to get personal with the Veep, he ought to just insult Jill Biden's pasta caprese dish and get off the stage.