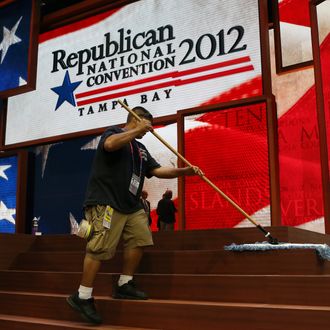 Setting up. (Spencer Platt/Getty Images)
Photo: Spencer Platt/2012 Getty Images
With most of Monday's events cancelled over concerns about flooding and heavy wind from Tropical Storm Isaac, organizers are scrambling to, as one adviser put it, "consolidate" the Republican National Convention into a three-day program. While some officials have said that things will definitely kickoff by Tuesday morning, RNC chair Reince Priebus has acknowledged that the inclement weather could cause further delays. "We're remaining in constant contact with state and federal officials," he said during a Saturday night conference call. "And we may make future scheduling alterations and announcements on an as-needed basis." 
As of now, the roll call vote — the process by which delegates will officially nominate Mitt Romney — is slated for first thing Tuesday. It's not clear when the big name speakers scheduled for Monday (Jeb Bush, Mike Huckabee, and South Carolina governor Nikki Haley) will address the crowd. Ann Romney's speech, which was originally scheduled for Monday, was moved to Tuesday earlier this week and should go on as planned. Florida governor Rick Scott announced that he will not be participating in the Convention so that he can deal with the storm, while Alabama governor Robert Bentley has cancelled his trip entirely. Louisiana governor Bobby Jindal, who is supposed to address the crowd on Tuesday, was said to be "monitoring the storm from his home state." However, with Isaac threatening to turn into a hurricane over New Orleans, there's a good chance that he'll make the decision to stay put. Paul Ryan is expected to land late Monday night; it's not clear when Romney himself — scheduled to speak on Thursday — will arrive. 
Despite the uncertainty, delegates and other attendees continued to stream into Tampa today. The convention's welcome party for the delegates — many of whom arrived earlier this weekend — has not been cancelled, though it could end up being a bust if safety concerns prevent people from leaving their hotels. Meanwhile, Ron Paul went forward with his Sun Dome mega-rally, and a Donald Trump-hosted dinner will still take place this evening. (As a Republican official told a local news station, "Donald Trump is bigger than any hurricane and the event will go on as planned.") 
The weather also did little to deter protesters, who were still busy erecting a Zuccotti Park-esque camp — complete with livestreams — in downtown Tampa. Hundreds of them have the intent to ride out the rain in tents, and it seems that they will be allowed to do so — at least for now. "There will be high winds and there will be rain but it's not going to be something that is going to prohibit anyone from doing what they want to do out on the streets," said Tampa police chief Jane Castor. "If it changes … and it becomes an issue of public safety, we will order people into shelters."
Update I: Appearing on CNN's State of the Union, RNC chairman Reince Priebus tamped down continuing speculation that the GOP convention may be postponed yet again. "We are 100 percent full steam ahead on Tuesday," he said. "Everything we were going to do Monday as far as the business is concerned will be on Tuesday." Meanwhile, the New York Daily News' Kristen A. Lee reports that, based on an RNC press call, GOP officials "appear to be putting rumors of a Friday session to rest."
Update II: Now that Isaac-related hurricane warnings have been issued for parts of the Gulf of Mexico (including New Orleans), Jindal is seriously considering skipping his Tuesday convention speaking slot, according to the Associated Press.
Update III: The Daily Caller just published a revised convention schedule for Tuesday, with the roll call now planned for the tail-end of the 2 p.m.-6:40 p.m. session. After a short recess, a long list of GOP luminaries will take the stage to berate Obama and praise Ryan (and maybe even Romney), including onetime Romney primary opponent Rick Santorum. The real fireworks of the evening, however, were saved for primetime: speeches by both Ann Romney and New Jersey Governor Chris Christie.