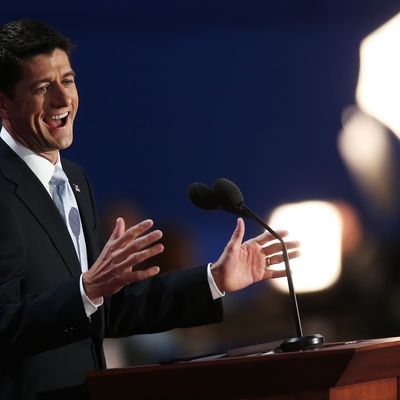 Ryan tells another whopper.
Photo: Win McNamee/2012 Getty Images
Paul Ryan has a reputation as a nerdy budget wonk, but tonight in his RNC speech, he transformed into an attack dog. Running the gamut on the many, varied transgressions of President Obama — including the stimulus, the jobs crisis, ObamaCare, the debt, Medicare, and, obviously, "You didn't built that" — Ryan had the crowd laughing, booing, and frequently showering him with piercingly loud standing ovations thanks to a slew of pitch-perfect applause lines. While this is just a hunch, we expect that his focus on Obama's inability to adequately revive the economy probably hit home with a lot of moderate voters. In short, it was, without a doubt, the best, most effective speech of the convention.
It was also appallingly disingenuous and shamelessly hypocritical. To name but a few examples that the official and unofficial fact-checkers will be picking over tonight:
But here's the thing: Most of the millions of people who watched the speech on television tonight do not read fact-checks or obsessively consume news fifteen hours a day, and will never know how much Ryan's case against Obama relied on lies and deception. Ryan's pants are on fire, but all America saw was a barn-burner.