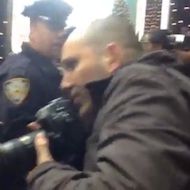 Stolarik in December 2011 during an OWS protest.
Photo: YouTube
New York Times freelance photographer Robert Stolarik reported for duty Saturday night in the Bronx and attempted to capture images of a brewing fight when Stolarik himself became involved in an altercation — with the police. Forty-three-year-old Stolarik and the NYPD have since presented significantly different versions of what transpired between the police and the press.
The Times reports that Stolarik, who has worked for the company for over a decade, was taking photos of a teenage girl getting arrested at about 10:30 p.m. when a police officer told him to stop doing so. Stolarik said that he then offered his credentials as a Times journalist and carried on with his photography, when another officer grabbed his camera and slammed it into his face. The Times with worst of the altercation:

Mr. Stolarik said he asked for the officers' badge numbers, and the officers then took his cameras and dragged him to the ground; he said that he was kicked in the back and that he received scrapes and bruises to his arms, legs and face.
The police charged him with obstructing government administration and with resisting arrest.
The Police Department said in a statement that officers ordered Solarik and the rest of the public away from the scene numerous times, but that Solarik pushed forward "inadvertently" striking an officer in the face with his camera, according to the Times. Further, the Department said Solarik "violently resisted being handcuffed" and that one officer was cut in the hand during the scuffle.
Now Stolarik has a November date in court on the charges, but he's been in an altercation like this with the police before.

During the height of the Occupy Wall Street movement in late 2011, many journalists complained that police were blocking their access to OWS protests. In one particular incident on December 12, 2011, video captured Solarik arguing with police as he attempted to photograph an arrest inside the World Financial Center. Solarik and officers exchanged words as police appeared to form a wall blocking him from getting closer to the scene. He said his press pass was visible throughout the scene. A couple of weeks prior to that incident, Police Commissioner Ray Kelly had issued a directive to officers that they "should permit media as close to the activity as possible and that media should not always be restricted from entering private property," according to the Daily News.
Times lawyer George Freeman commented on the current matter in defense of Stolarik. He said, "This is an incident where it seemed the photographer was doing his job taking photographs, and the police overacted and attempted to intimidate him and block him, leading to his arrest."