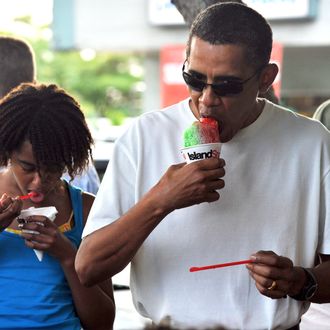 Shaved ice will be allowed.
Photo: JEWEL SAMAD/AFP/Getty Images
Between stops to examine corn and stare up at windmills, President Obama's three-day bus tour  through Iowa will include a trip to its famous State Fair. Thanks to the First Lady and the Secret Service though, it's going to totally suck.

At a rally in Council Bluffs today, President Obama said his wife gave him a strict dietary directive. "Michelle has told me that I cannot have a fried Twinkie," he said. Fortunately for the president, there are 56 other foods served on a stick for him to shove down the First Gullet. 

More devastating than Michelle's decree, though, is the Secret Service's mandate that the president avoid the bumper cars. And we all know how much he likes his bumper cars.

Ever the optimist, the president is still looking forward to the fair. "I understand this year there is a chocolate moose," Obama said. "So I'm going to have to take a look at that if I can."