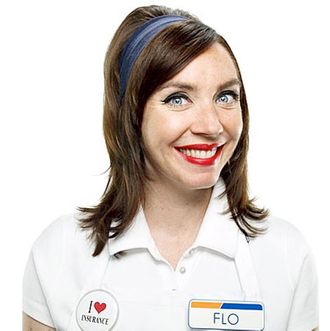 As if that obnoxious Flo wasn't reason enough to avoid Progressive, New York–based comedian Matt Fisher has a story so unflattering to the insurance company that its Facebook page is full of people announcing plans to cancel their policies. It started in 2010 when Fisher's 24-year-old sister Katie was killed in an accident in Baltimore. According to Fisher, Katie was hit by a driver who ran a red light and in a tacit admission of his guilt, the driver's insurance company settled with her estate "basically immediately." But he was also underinsured and Katie carried a policy requiring Progressive to pony up the difference between the driver's policy and the value of her own.
But Progressive said no.
In hopes that a jury would hang or decide that the accident was her fault, they refused to pay the policy to my sister's estate.
Shitty, to be sure. But it gets worse. In order to fight Progressive, Fisher's parents had to sue the man who hit Katie, establish his negligence in court, and "then leverage that decision to force Progressive to pay the policy." After a series of failed attempts to settle, the case went to trial where Progressive made perhaps its biggest mistake of all:
At the trial, the guy who killed my sister was defended by Progressive's legal team. If you are insured by Progressive, and they owe you money, they will defend your killer in court in order to not pay you your policy.
It's that detail that sent Twitterers, Facebookers, and Redditors over a cliff. They've bombarded Progressive's official Twitter account shaming the company for its malfeasance. Their messages received a half-assed response claiming the company "properly handled the claim within our contractual obligations." Predictably that pissed people off even more, and in the ultimate sign of Internet rage, there's now a Scumbag Progressive meme. In the end, the driver was found to be negligent and the family was awarded $760,000. They're still waiting for their check.
Update: Progressive has released a statement clarifying its role in the defense of the driver who killer Katie Fisher. "To be very clear, Progressive did not serve as the attorney for the defendant in this case. He was defended by his insurance company, Nationwide," the statement says. But it does not address a claim made in the Daily Mail that, "Progressive's in-house attorney Jeffrey R. Moffet assisted the defense." Nor does it mention, as Gawker points out, why court documents show Progressive was allowed "to intervene as a party Defendant."