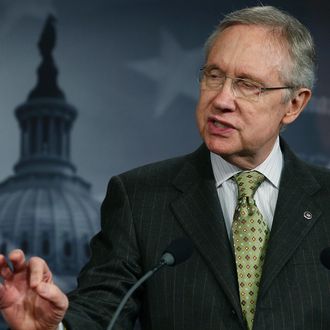 Photo: Mark Wilson/2012 Getty Images
Earlier this week, Harry Reid revealed why Mitt Romney is refusing to release more tax returns: He didn't pay taxes for an entire decade! It almost sounds too crazy to be true, and in fact, Reid is "not certain" that it isn't a total lie. However, he is sure of one thing: "I am not basing this on some figment of my imagination," Reid told the Las Vegas Review-Journal. "I have had a number of people tell me that." So we aren't talking about just one anonymous Bain investor, but several people who have seemingly only shared this story with Reid.
In an interview with Nevada reporters on Wednesday, Reid refused to name his sources or back down on his accusation. "I don't think the burden should be on me," he said. "The burden should be on him. He's the one I've alleged has not paid any taxes. Why didn't he release his tax returns?"
A Romney spokesman said Reid's accusation is proof that the Obama campaign will do anything to distract from his economic record, "no matter how baseless, unfounded or demonstrably false their attacks are." Of course, the Romney campaign didn't actually offer new evidence to demonstrate that the claim is untrue.
According to Reid, it's the media's job to get to the bottom of this. "What if he has paid no taxes, like I am saying he hasn't," Reid said. "What if he has all these moneys as we already know … in the Cayman Islands, Bermuda, Swiss banks. I mean, gee whiz, rather than ask me why I should do this, that is a story you should be writing." Looking into Romney's finances? Reporters must be kicking themselves for not thinking of that sooner.