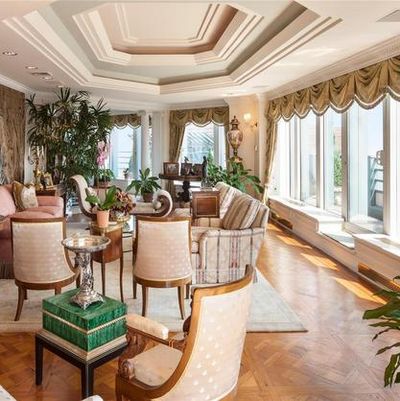 Photo: Courtesy of Prudential Douglas Elliman Real Estate
Psst, want to buy a mega-mansion? Here in New York, we've got plenty, and more all the time. There are at least eleven properties now on the market for $50 million or more, according to Streeteasy.com's Sofia Song — the highest number ever. From April to June of this year, there were twelve priced at $50 million or more. In the same period in 2011, there were four; way back in the second quarter of 2008, before the market began its downward spiral, there were only three.
Even $50 million seems almost passé now amid recent arrivals near the nine-digit mark. There's the $100 million penthouse at 150 West 56th Street  that debuted last weekend and the $95 million five-bedroom at the Ritz-Carlton that turned up on Thursday. Another $95 million combo listing, half of which once housed A-Rod, is now available at 15 Central Park West. (Check out the floor plan: The master bedroom has a sitting room and a dressing room and another area, presumably for sleeping, that could fit two taxis, easy.)
Within the last two weeks, eight listings asking at least $20 million went on sale in the middle of the summer, when the market traditionally languishes in torpor, like a proper New Yorker escaping the city's smothering heat.
So, what's going on? Jonathan Miller of the appraisal firm Miller Samuel calls this "the 'cluster effect.'" "We have a track record of eight-digit sales, which is bringing out the listings that haven't been available until now and are trying to participate in the high-end circus," he said.