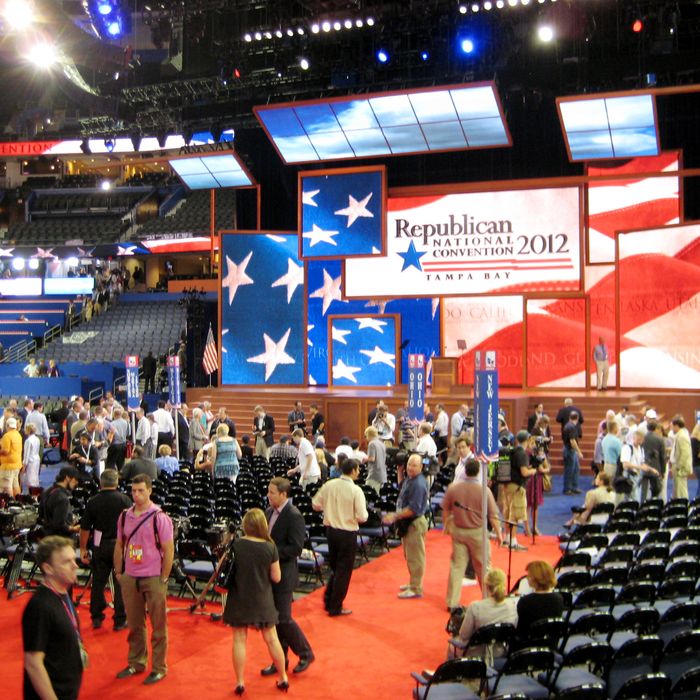 The convention floor this afternoon.
Photo: Dan Amira
Though Isaac ended up sparing most of the Republican National Convention — today, the first day, was canceled over the weekend, although it probably didn't need to be, in retrospect — the hurricane is now barreling down on New Orleans, and could strike the city on the seven-year anniversary of Hurricane Katrina. This has put the planners of the GOP convention in yet another Isaac-related bind. As various reports have indicated, the rest of the convention could be called off or shortened to just one day if Isaac looks set to cause big problems in New Orleans. After all, the juxtaposition of the GOP celebrating itself while people suffer in New Orleans (and as Obama jumps into action to help them) is not one that would help Romney much. 
But from what I'm hearing, the delegates in Tampa — many of whom traveled long distances to be here — are pretty much uniformly opposed to further truncating the convention or canceling it outright. They wish the best for New Orleans, but they have work to do. 
"I think there's too much party business to get past in one day," Justin Machacek, an alternate delegate from Texas, told me. "It is an act of God, and it's terrible if it hits New Orleans again, and we'll be praying for them and trying to make sure that they're safe and sound, but we have other business we need to attend to."
"I don't think the convention should be canceled," an Alabama delegate agreed. "There's been a tremendous expenditure, a tremendous amount of time spent on it. I could see where some of the principles could have to limit the amount of time they're going to be there. If we have another disaster in New Orleans like we had with Katrina, nobody at the national level is going to be comfortable here playing politics. But I think the convention should continue."
Thaddeus Gala, a delegate from Oregon, wondered whether canceling in solidarity with New Orleans even made sense philosophically. "Where do you draw the line?" he said. "Because there are people that are starving every single day, troops that are dying every single day. So does that mean we should cancel every celebration, birthday party? I don't see this as a celebration as much as a political process. Does that mean you cancel Election Day?"
One Wisconsin delegate, meanwhile, suggested an alternative to canceling that would still show compassion for New Orleans. "I think an appropriate thing to do would be to take up a collection and maybe have everyone donate, rather than cancel the convention," she told me. "Obviously, we'd be very concerned, but the convention needs to go on."
Charles Sciolaro, an alternate delegate from Kansas, was the only person out of a dozen that we talked to who would even contemplate the idea of shutting down the convention. But the DNC would have to cancel too. "It should be a national effort, not just necessarily an RNC effort," he told me. "It should be a DNC and an RNC effort. Their convention is next week. They need to mobilize their efforts too, to go down to help the people of New Orleans."