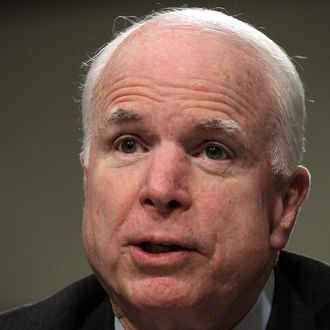 U.S. Sen. John McCain (R-AZ) testifies during a hearing before the Senate Foreign Relations Committee July 12, 2012 on Capitol Hill in Washington, DC. The hearing was focused on the ratification of the U.S. on T.Doc.112-7, the Convention on the Rights of Persons with Disabilities.
Photo: Alex Wong/Getty Images
A bunch of speakers for the upcoming Republican National Convention were announced today, including Nikki Haley, Susana Martinez, Condi Rice, John Kasich, Rick Scott, Mike Huckabee, and John McCain, which means none of those people will be Mitt Romney's running mate, according to the RNC. And while Chris Christie is rumored to be giving the keynote, that was not mentioned in the release. Interesting, maybe.