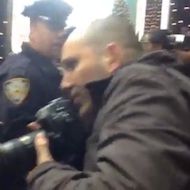 Robert Stolarik, a photographer for the New York Times since 2000, has covered conflict zones, natural disasters, and protests for the paper, so he knows his way around a volatile situation. What was strange about his arrest over the weekend, in which Stolarik says he was beaten up by police and arrested without provocation, is that there was no warning. "I've been doing this a long time," he told Daily Intel. "There was no tension." One second he was photographing a street fight in the Bronx, and the next he was on the ground beneath six officers, suffering cuts and bruises to his arms, legs, and head.
After spending most of Saturday night in jail, charged with obstructing government administration and resisting arrest, Stolarik checked himself into the hospital on Sunday. "They said I have no broken bones or internal injuries," he told us Monday night. "That's a relief, because it feels like I have broken bones and internal injuries." More important, he still doesn't have his cameras.
Stolarik was on assignment with two Times journalists (reportedly covering the NYPD's controversial stop-and-frisk practices) when he happened upon an escalating scene. Naturally, he began shooting the altercation as police moved in to arrest a teenage girl. According to Stolarik, he was first approached by a female officer, who put her hand on his camera and told him to stop shooting. After he pointed out his media credentials and continued, Stolarik said, a second officer approached and "handled the camera more aggressively, pushed it into me." When he asked for the officers' names and badge numbers, he was "surrounded and taken down — dragged, kicked, and stomped on."
The NYPD said in a statement that Stolarik "inadvertently" hit an officer with his camera and "violently resisted being handcuffed," although a video taken by a Times reporter reportedly shows Stolarik "face down on the sidewalk, beneath a huddle of about six officers."
"My camera hitting anybody is an untruth," Stolarik told Intel. "They just get to say whatever they feel like saying and then charging me with whatever they feel like charging me with to justify their actions. They were violent toward me, and they were violent toward the media."
"I always try to be reasonable," said Stolarik, who was hassled by an officer on camera while covering the Occupy Wall Street protests last fall. "But there's going to be a next generation [of journalists] to come up, and if we accept this type of behavior, what happens to that next group of people?"
"At the moment, we're not pursuing any legal action. The main goal is to have the charges dropped," said Stolarik, who is due in court on November 26. "They're not real. These things didn't happen. Make the charges go away and get me my equipment back."
He estimates that he's out roughly $20,000 in materials. "I'm a freelance journalist — without those tools I can't work. It's a financial burden being out of work one day," he added. "But I'm 43 years old — to be beaten up, the recovery time is longer."
Lawyers for the Times and the National Press Photographers Association, along with the Committee to Protect Journalists, have already taken up Stolarik's cause. "I trust that the department will do the right thing and at the very least immediately return Mr. Stolarik's equipment and credentials," said Mickey H. Osterreicher, general counsel for the NPPA, in a letter to Deputy Police Commissioner Paul Browne.
"I don't want to overplay it. I'm not bitching and moaning," said Stolarik. "But you just don't expect this. This is just violence."