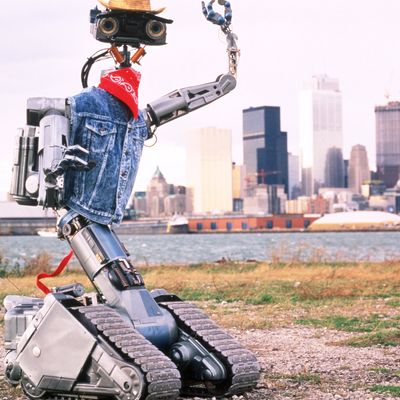 May I sell some shares of BAC for you? How about a million?
Photo: TriStar Pictures/Courtesy Everett Collection
Earlier this year, novelist Robert Harris came out with a thriller called The Fear Index, the plot of which concerned itself with a Geneva-based hedge fund whose billionaire owner is attacked by a rogue high-frequency trading algorithm of his own creation.
That was fiction. But what happened yesterday to Knight Capital Group, a Jersey City–based firm that relies on a similar high-frequency strategy to trade in and out of thousands of stocks, was decidedly not. Knight's software malfunction cost the firm an estimated $440 million, a stunning blow that has sent its stock down 66 percent and led it to look for a lifeline.
Here's what happened: Yesterday, there was a glitch in Knight's trading algorithm, a version of a high-frequency program that analyzes price movements on a bunch of stocks — stocks like American Airlines, Wizzard Software, and something called "China Cord Blood," which, yeah, I don't even want to know what that is — and trades on them automatically.
That glitch led Knight's system to flood the market with millions of errant orders, which drove the prices of the stocks it was trading up and set off circuit breakers that halted trades in some of them. Then, when Knight had to sell those shares back into the market, it did so at much lower prices, saddling itself with a $440 million loss.
For perspective, Knight's net income in 2011 — its profit for all of last year — was $115.2 million, just a fourth of what a badly behaved robot cost it in less than 24 hours.
The story of Knight's rogue algorithm will be ammunition to critics of high-frequency trading, who have said for years that the practice of putting the majority of shares flowing through our nation's stock exchanges in the hands of a bunch of computer programs, with no limits or transaction taxes to contain volume, is perhaps not the best idea.
"The machines have taken over, right?" Patrick Healy, CEO of the Issuer Advisory Group, told the Times.
Knight, whose algorithms are used by other high-frequency trading firms, may be the first casualty of Wall Street's impending robot apocalypse. With its stock down more than 50 percent today, it gave a grim announcement that it is "pursuing its strategic and financing alternatives to strengthen its capital base." (Read: Panic!)
Knight's CEO, Thomas Joyce, explained that the firm's algo-gone-wrong was the kind of mistake that can't be avoided in a risk-taking culture.
"You can't keep people from doing stupid things," he told Bloomberg TV.