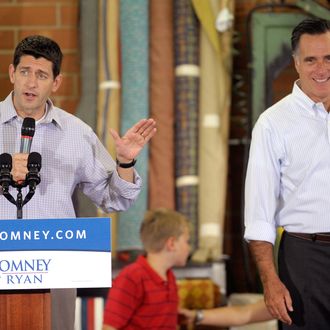 Ryan and Romney in North Carolina. (Sara D. Davis/Getty Images)
Photo: Sara D. Davis/2012 Getty Images
Mitt Romney and Paul Ryan did a mini-tour of North Carolina today, with the candidates making stops in the towns of High Point and Mooresville. Despite what was described as "oppressive" heat, the pair was greeted by large, enthusiastic hoards still jazzed up about yesterday's vice-presidential nominee reveal. Romney himself seemed uncharacteristically animated, as demonstrated by his introduction of his new sidekick to the crowd gathered in the parking lot of the NASCAR Technical Institute:
"I am so happy, I am so happy to have my teammate now, the two of us," Romney told the overflow crowd of an estimated 3,000. "It's now two-on-two you know. And this is a guy with extraordinary character."

The crowd then broke out into chants of "Paul, Paul, Paul."

"Yeah Paul, Paul , Paul, Paul, Paul, Paul," Romney joined in. "Let's cheer for Paul!"
The moment was bittersweet: Today is expected to be the last time the pair will appear together in public for a few weeks, as campaign plans to "extend their bandwidth" by crafting separate itineraries for Romney and Ryan until the end of the month, when they will be reunited in Tampa for the RNC.