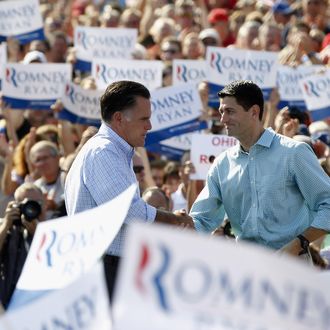 Photo: Matt Sullivan/2012 Getty Images
Mitt Romney and Paul Ryan spent the morning campaigning together in Ohio, where the pair unveiled a new -ish message for the ladies. In front of 5,000 supporters (and a handful of protesters), Romney delivered his usual economy-themed stump speech with some notable tweaks worked in. "Just a word to the women entrepreneurs out there," he said. "If we become president and vice president we want to speak to you, we want to help you." Romney went on to say that "women in this country are more likely to start businesses than men," adding that his campaign is "about making it easier for entrepreneurs, women and men, to start businesses, to grow businesses." Ryan took a slightly subtler approach with his remarks, telling the crowd that he and Romney "want every American to be able to achieve her potential." 

Romney and Ryan's remarks were a clear appeal to female voters — particularly those who spent the week distracted by the campaign's attempts to distance itself from Todd Akin's deeply unpopular take on certain women's issues. Meanwhile, before taking off for Camp David, President Obama sat down with the AP's Ben Feller in the White House library for a pre-RNC convention interview focused on the "extreme" social positions Romney staked out during the Republican primary, as well as his choice of the very consistently conservative Ryan as a running mate. 
I can't speak to Governor Romney's motivations. What I can say is that he has signed up for positions, extreme positions, that are very consistent with positions that a number of House Republicans have taken. And whether he actually believes in those or not, I have no doubt that he would carry forward some of the things that he's talked about.
Among the several examples the president laid out: Romney's across-the-board cuts (which, as you might have heard, favor the wealthy),  his opposition to wind energy tax credits, and the unlikelihood of Romney ever "stand[ing] in the way" of a Todd Akin-esque bill to strip women of their reproductive rights.