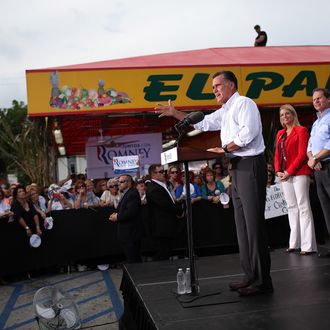 Photo: Justin Sullivan/2012 Getty Images
While President Obama is being kept on a short leash at the Iowa State Fair, the Secret Service allowed Mitt Romney to hang out with a convicted drug dealer today in Miami. Romney held a campaign event with Senator Marco Rubio at the juice shop El Palacio de los Jugos. Unfortunately, Romney definitely won't be getting owner Reinaldo Bermudez's vote, as he pleaded guilty to one count of conspiracy to distribute cocaine in 1999 and isn't allowed to cast a ballot.
Bermudez served three years in prison for his part in a Colombian drug smuggling operation that ended in the seizure of 2,850 pounds of cocaine at several Florida ports and included eleven other people with colorful nicknames like "Fat Boy," "Ali Baba," and "Skeletor." Bermudez says the Secret Service vetted him before the event and was well aware of his crimes. "Here in Miami there are a lot people with money who have had problems with the law," Bermudez told the Miami New Times. "Thankfully, we all have the opportunity in this country to re-enter society when we've done something wrong." Though he shouldn't expect to fully re-enter society under a Romney administration. Romney said during a debate earlier this year that he doesn't support reinstating voting rights for convicted criminals.