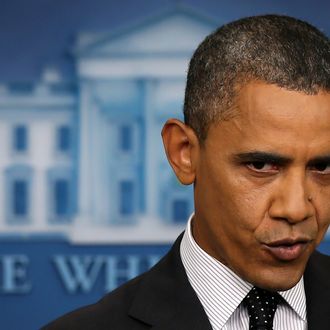 Ouch.
Photo: Alex Wong/2012 Getty Images
Mitt Romney has raised more money than President Obama for the past three months, and in July the Obama camp made its financial situation a bit worse by spending far more than it took in. According to new financial documents released Monday night, the Obama campaign and the Democratic National Committee raised $75 million and spent $91 million in July. Meanwhile, Romney and the Republicans added $101 million to their accounts, and that isn't even counting the reported fund-raising bump after Romney announced Paul Ryan as his VP pick. Overall, the Democrats ended the month with about $124 million while the Republicans had $186 million, which means that in July Romney more than doubled his cash advantage over Obama.
As Reuters notes, there is a small silver lining for President Obama. He has more say over how the money he does have will be spent, since more of those funds are in his campaign account rather than the DNC's. The reverse is true for Romney, and this year there's a $21.7 million cap on how much parties can coordinate with campaigns. That means Obama can be more spontaneous with his funds, for instance, if he wanted to throw together a new ad attacking his opponent's VP on women's issues just a week after he joined the ticket.
Of course, the financial race between the two candidates isn't about who can stash away more cash, but who can spend it effectively. When Democrats started fretting last month about the Obama campaign's spending habits, press secretary Ben LaBolt assured them that it was all part of the plan. "We made a decision to invest early in building the largest grassroots campaign in history so that our supporters could engage in 500 days of persuasion with their networks," said LaBolt. There's evidence that the Obama campaign remained committed to that strategy in July, spending $58.5 million, with two thirds of that going to advertising.

Romney is able to spend less on ads since he's receiving so much (uncoordinated) assistance from outside groups. Politico reports that the pro-Obama super-PAC Priorities USA Action spent only $3.3 million in July, with most of that going toward ads. During the same time, the pro-Romney super-PAC Restore Our Future parted with $8.2 million (slightly more than it raised). The New York Times reports that the campaign was also aided by the Koch brothers' Americans for Prosperity, which spent $14 million on ads in the last 30 days, and Crossroads Grassroots Policy Strategies, which put in more than $16 million. Expect those fund-raising e-mails from President Obama to grow even more bizarre and desperate in the coming days.