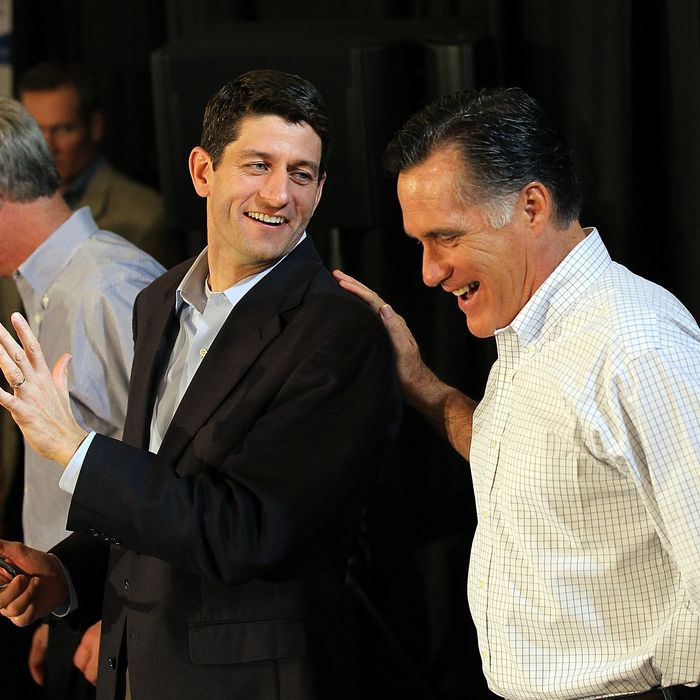 Photo: Justin Sullivan/2012 Getty Images
The addition of House Budget Committee Chairman Paul Ryan to the Republican presidential ticket, "the sole locus of the conservative movement's longings," as Jonathan Chait noted on Friday, is a lock. Mitt Romney will reveal Ryan as his vice-presidential pick in front of the U.S.S. Wisconsin in Norfolk, Virginia, this morning.
The pick will tilt the dynamic of a presidential race that has already developed contrary to expectations. The Obama campaign has succeeded thus far in knocking Romney off his focus on the economy with a series of attacks on Mitt's record at Bain Capital and his refusal to release more than two years of tax returns. The Ryan selection will now put his budget plan into the heart of the race, which includes full repeal of Obamacare, tax cuts, and huge reductions to government programs for the poor.
Earlier in the summer, before the steady onslaught from the Obama campaign began taking its toll on Romney's poll numbers, the consensus was that Republicans needed an "incredibly boring white guy" like Tim Pawlenty or Rob Portman, someone who wouldn't distract from the central message that the economic recovery was being mismanaged by Obama. Ryan, as Chait noted earlier this year, is anything but boring, depicted as "America's neighborhood accountant, a man devoted to the task of restoring our fiscal health," while in fact "nobody has done more in recent years to prevent the passage of a bipartisan debt agreement."
Ryan's selection may actually provide some rare bipartisan joy, although for different reasons. Republicans have their ideological standard-bearer on the ticket, and a chance to shift the campaign back towards policy and away from Romney's vulnerable personal history. Democrats, meanwhile, get to highlight the Republican economic wish list, like cutting taxes for the rich and turning Medicare into a voucher program.
The Romney campaign's selection of Ryan and its desire to change the framing of the election was foreshadowed on Friday, when Romney called for "agreement between both campaigns that we were only going to talk about issues" instead of "attacks based upon business or family or taxes or things of that nature." Politico's Maggie Haberman noted that it's "surprising … hearing a candidate say, essentially, 'stop hitting me.'"
The body blows from the Obama campaign are unlikely to ease up with Ryan on the ticket. But starting Saturday, Romney will have a new heavyweight in the fight.